800ft Flight Above Deal Pier
While on a short break in Kent, I checked the weather conditions and realised that there would be a great opportunity to create an image I've wanted to capture for several years…really since I've had access to a drone.  Getting this image would require an 800ft flight above Deal Pier.
Deal has a long pier.  Primarily used for fishing and for sight-seers to stretch their legs, the concrete structure, designed in the brutalist style of architecture, replaces an older version which used to provide a docking point for cruise ships.  In fact, Deal has had three piers across the years with the latest one opening in November 1957 at a staggering cost of £250,000.  I don't think you'd be able to replace it for that now!
The legal height for drone flights in the UK is 400ft above ground level, to maintain a 100ft safety buffer between drones and most (though not all) low flying manned aviation.  However, Eyeup Aerial Solutions Ltd is proud to hold an exemption from the UK Civil Aviation Authority, allowing flights up to 1000ft.  This image was taken from just below 800ft.  Anybody planning manned flights through the area while the operation was taking place would have been aware through the NOTAM (Notice to Airmen) system managed by the CAA.  In addition my wonderful wife was acting as an observer, scanning the sky for any signs or sounds of other aircraft and watching the drone, a DJI Inspire 2.
Once launched, we flew the drone to a calculated safe distance from the end of the pier whilst climbing to the operational height.  Then comes the task of obtaining images covering the 180⁰ sweep from the white cliffs at Kingsdown to the South right across to Ramsgate in the North.  Here are a few of the individual photographs that make up the final image.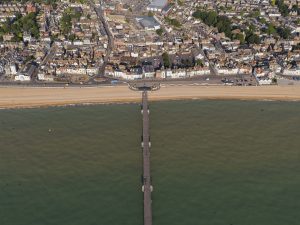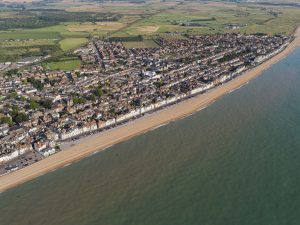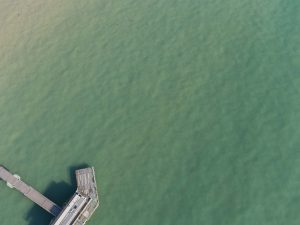 Then it's home to process the final image.  In this case, the final picture, a spherical panorama, has been produced using a total of 83 images.  The stitching software used was Microsoft ICE, which has given me some outstanding results in the past.  Some additional processing has taken also place in Photoshop restore the pier itself to a sensible shape since the spherical processing distorts it badly, which seemed a shame.
A low resolution version of thr final image has been posted on the "Deal Kent for the Delighted and Delightful" Facebook group, consisting of a lovely, positive bunch of locals and those with links to the town.
The link takes you to the image stored in Dropbox.  It is possible your browser will throw up an error, in which caser you can download the 90Mb watermarked file directly.  Download speed will depend on your local internet speed.
Note, that it is possible to create an even higher quality image.  Firstly through processing, secondly, by re-creating the flight but using a longer focal length lens and taking even more photos.  However, this version will print to a size of 6'x3′ at 300dpi or 24'x12′ at a more normal 75dpi.
Should any businesses or public bodies be interested in the image, please don't hesitate to contact Eyeup on 01372 632634 or info@eyeup.camera.
Read more about what Eyeup can do for your own drone operations through its training and consultancy.