What is going on with the Drone Code?
The Drone and Model Aircraft Code ( popularly known as the Drone Code) appears to be wrong.
This raises a few questions.
First of all, have I somehow misinterpreted the code and found an error where none exists?  I'd be happy for anybody to pick apart the arguments here and ping them across to me at info@eyeup.camera.
Next, if I am correct and the code is wrong…does this actually matter?
This one is easier to answer.  The Drone Code is the basis for entry to the process of flying drones.  Any inaccuracy or misunderstanding here can directly impact people's attitude to safe flying, influence their opinion of the CAA and ultimately may lead to non compliance through confusion or sheer cussedness.
The code covers flight within the  A1 and A3 subcategories of the Open category of flying.  That's confusing enough in itself because it begs the question, "what happened to A2?"
What happened to A2?
Fortunately, the CAA provides a helpful link within the code to take you to a page specifically about the A2 sub-category.  At least, that's what I would expect it to do because the text around the link states:
"You'll need to go on and get further authorisation if you want
to do more advanced flying, or if you want to fly a drone or
model aircraft that weighs 25kg or more. For example, if you
want to fly in the Open A2 sub-category, or Specific category,
or Certified category."
I've recreated the link from the code.
I would expect to have that link take me to a page headed something like "Flying in the Open A2 sub-category".  Unfortunately, it takes you to the generic "Flying in the Open category" page.  Search the page for "A2" and you will find nothing.  Not great.
So the Drone Code leaves you floundering in the world of the A1 Open sub-category.
Where's the error?
Check out Section 4 of the code.  It's titled "Do not fly closer to people than 50m"
"But wait", I hear you cry, "I have a sub 250g drone so I can fly closer than that and I can even overfly them as long as they don't constitute an assembly of people (crowd)."
Yes you can.
If you want to fly anything heavier, say a Parrot Anafi at 315g or a DJI Avata at 410g then under the law (note…not the code)…you need to study and obtain the A2 Certificate of Competence or A2CofC.
But the authors of the Drone Code didn't seem to understand this.  It is possible they were working from the ill-fated version 9 of CAP722A which the regulator had to rapidly re-write and re-issue.  This shouldn't really be an excuse as version 9.1 was released just before Christmas, while the current version of the Drone Code was issued in January 2023.  You'd hope the authors were working from the appropriate version.
So what does the drone code currently say about sub-500g drones?
Here is it from the horses mouth: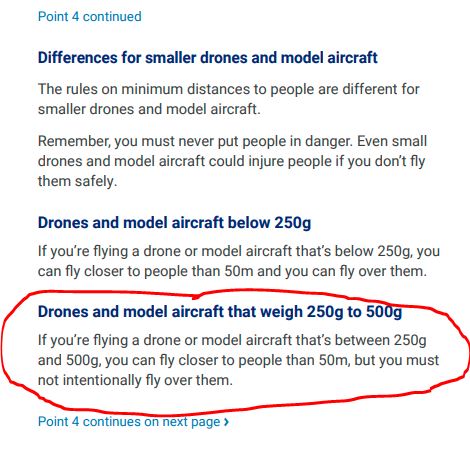 There we go.  It's clear in black and white that according to the drone code, you can fly in the A1 "close to people" sub-category with a sub 500g drone and with no reference to a further competence requirement.
But you can't.
I'm saying this now very clearly.  If you follow the drone code and fly a sub 500g drone close to people in a congested area you are breaking the law.
The simplest place to check this is in a document called CAP202.  It's another CAA derived piece of work but at least it appears to be consistent with legislation.  If you want to really know the law because you don't believe me, then I wish you luck as you will have to bury yourself in the UAS Implementing Regulation. Links to both supplied because I'm helpful like that.
You are not however, breaking the drone code.
Let's have one last check to make sure we know what the drone code covers.  Fortunately, this is reiterated in section 9 of the code, repeated below: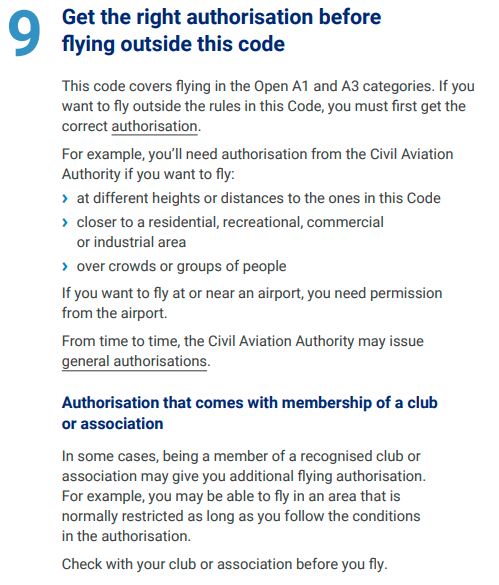 Repeat…do not fly a sub 500g drone in a congested area without obtaining an A2 CofC or specific category Operational Authorisation first.
Any other issues with the code?
Oh yes.  The problem above is a case of under-reach. What I mean by this is that the CAA has, in genuine error, given the impression that flights are allowed when in fact they aren't.
This is in direct conflict with a lot of the code, which demonstrates over-reach.  This is where the safety advice is just that…advice.  It is probably good advice, but it is NOT legally accurate advice.  a lot of it does NOT reflect the actual legislation around the use of UAS.  Is the advice sensible?  You know, most of it probably is.  But there are aspects that just don't take pilot knowledge and experience into account.
Hopefully, the CAA will make some sort of response to this blog…if only to update the code so that it is correct around the use of sub-500g drones.
If this is about safety, and if the CAA is a competent regulator…it sort of has to, doesn't it?