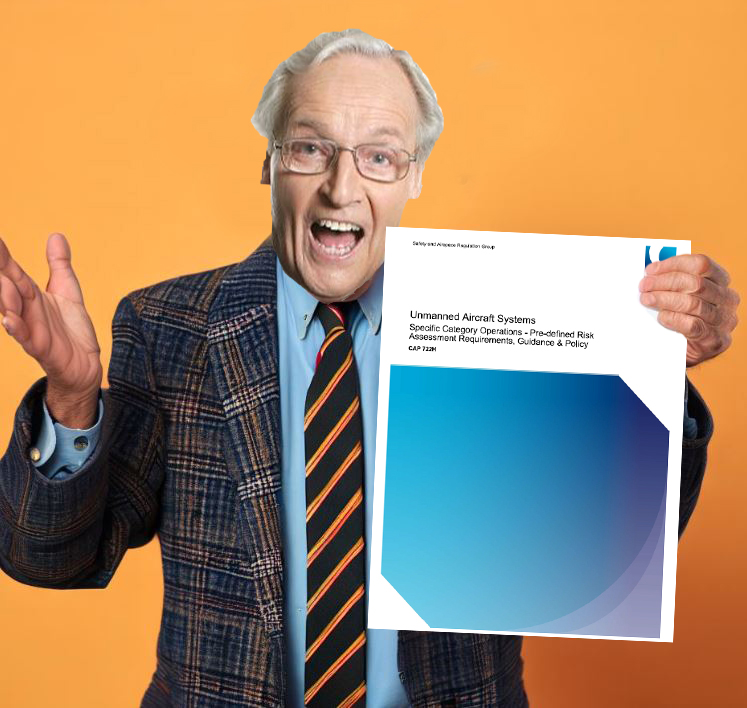 In the immortal words of Nicolas Parsons….
Just a Minute?
For readers not familiar with the long-running BBC Radio 4 quiz show, it is based on a simple concept.  Celebrity contestants are given a subject and have to talk on it for 60 seconds without Hesitation, Repetition or Deviation… hence "Just a Minute".   It's an entertaining listen and has been running for over 50 years.
Let's treat this blog as a virtual edition where i act as host and ask the UK CAA to talk on the subject of CAP 722H for Just a Minute.  This document is the regulator's evidence that "standard" clearance drone operations can be carried out safely within the UK.  As such it provides the operational bedrock for all Specific Category Operational Authorisation holders' operations manuals.
I wonder whether they'll manage to get through the sixty seconds without committing any of the sins of Hesitation, Repetition or Deviation.
Let's start the clock…
Hesitation
Version 1 of CAP722H was planned to be published on 5th December 2022.  This is evidenced by that date appearing in the document.
However, there was a slight hesitation detected by the other contestants when it was released amid great fanfare on the 7th December with a batch of CAP722 family documents.
How do we know it was due for release on the 5th?  We have our sources.  The most convincing of which was provided by the regulator themselves as the title block of the First Edition states the 5th December 2022.  Some operators who made the mistake of believing the date actually printed within the document actually had their renewals placed on hold by the CAA who demanded the 7th December be put down.  I'll leave it to reader to decide how harsh that was…just take a look at the title block below.
First contact with the community
It soon became apparent that the First edition had major errors.  A number of these were pointed out very quickly by key training providers and by Eyeup in its well received (by some) "Oversight Report".
None of this would be a problem though.  The CAA was quick to state that a reviewed document would be out "imminently".
In fact it took three months (until mid-March 2023) for a revised version to be released.  But this only went to the community of RAEs (Recognised Assessment Entities), which are the training organisations used by remote pilots to gain their standard Specific Category qualification, the GVC.
Those organisations fed back on the issues they had spotted and version 2 was officially released a couple of days later.  Only joking.  It took a full FIVE MONTHS for the CAA to provide the Specific Category community with the document that should have been in place 8 months before.
Do you start to understand why a point or two may be lost for Hesitation?
By the way, the feedback must have been comprehensive, or the CAA decided that they had got the initial version completely wrong…because the final released version 2 looks VERY different to what the RAEs saw!
Outside the arcane world of "Just a Minute", Hesitation can sometimes be good.  After all, the CAA is a regulator which has a primary duty of air safety.  Lot's of time can mean lots of time to get everything right.
Let's see…
Repetition
People find me repetitive…after all, I keep banging on about what's wrong with CAP 722H.  And just ask my long-suffering wife!
But the regulator has a duty of care for air users and those affected by unmanned aircraft.  Clearly, judging by the increasing number of documents they are generating, the best way to ensure safety is to make sure that every 'i' is dotted and every t' crossed in such a way that there can be no room for misunderstanding or error.
The problem comes when repetition creeps in and that very repetition may hide an error…or potentially many errors.
In its infinite wisdom, the CAA has decided to create a sort of "Risk Assessment by Numbers".  Instead of looking at the risk assessment and reading in plain text what mitigations are expected, operators are forced to collect together a group of mitigation codes from the risk assessment table, then go looking in the section below  to understand what that mitigation means.
Sounds tricky…and it is.  Just try to generate a meaningful risk assessment that remote pilots can read and understand and you will tie yourself in knots.  I know, because I've done it.
It is when you test a document by going through such an exercise, that you spot the errors.  In this case, the "Repetition", so loved by the players of Just a Minute.  Here, the mitigation M4 is repeated.  Do operators have to do this one twice?
Now, a repetition in itself may not be a safety issue.  But if the number repeated should have been a different number, what are we to think?  If one number is repeated, does that mean that others, which aren't repeated, are also wrong?  Because the risk assessment is not written in plain text, it is difficult to see where errors may lie.
The instance I found may be small.  It may not be the only example because, let's face it, nobody pays me to go through these documents.  But somebody presumably is paid to check these things don't occur.  I'm pretty sure that there must be some fairly basic software that documents can be passed through to check for simple errors like this.  Time for some investment at the regulator?  Or just time to test documents before release?
I hope I've started to show Hesitating for a long time before release of a revised document doesn't necessarily end in the excellent outcome we should expect from the regulator we are funding.
Deviation
This brings us to Deviation.
We are spoilt for choice here.  I could pick on Deviation from document control and then hit the old favourite of "Deviation from consistency"
But no, this is too important.  I'm going straight to "Deviation from safety".
Again, I haven't gone through the 55 mitigations and how they have been applied to each and every hazard in the risk assessment table.  I am prepared to do so, but I hope that the CAA will stop me by confirming that they are going to have another go at doing this job properly.  They have already hinted that PDRA01 is "under review", but that is no good at all if they use the same tired process to generate a new document and release it "untested".
The regulator needs to have a good think about who uses these documents and how documents they are used when released "into the wild".  This will provide them with a potential launch pad for effective document testing.
Anyway, here's a great example of a misplaced mitigation.  Perhaps they just picked the incorrect mitigation code, or somebody's finger slipped when inputting.  The cause doesn't matter.  The outcome is that the document is incorrect on the dangerous side and requires amendment.
Background to operations "close" to assemblies of people (crowds)
Under a PDRA01 authorisation, no flight must take place closer than 50m horizontally from an assembly of people.  That means that no take-off and landing can take place closer than 50m horizontally from an assembly of people.  This is obvious.  Once you have taken off, you would need to commence flight to cover the distance from 30m from an assembly to the 50m m horizontal limit.  This would definitely be counted as flight and not just a bit of an angular take-off, though I'd love for the CAA to tell me different.
Most operators would also have extreme difficulty returning to land to a point with 30m clearance as they would have to re-enter the 50m horizontal exclusion zone.   Hopefully any Specific category operator will have followed the logic of this.  Basically, anything within the 50m horizontal exclusion zone of an assembly of people is a strict no-go.
So why, against a Consequence relating to "Collision with Assembly of people" Does mitigation M25 appear?
As can be seen below, mitigation M25 states the limitations during "normal" procedures during take-off and landing of 30m separation.
I'm not sure which mitigation they intended to insert here, but I'm certain that it can't be M25 as 30m clearance is not considered safe when operating "near" assemblies of people.
This is a surprising Deviation as CAP 722H introduced the new concept to the specific category of the 1:1 rule when working near assemblies.  This is a real slip up in my opinion.
Finally….I can't resist.  So, for a bit of light relief, let's finish with good old Deviation from consistency.
Running through the risk assessment, I was struck that only one of the hazards seems to need any mitigation when it gets dark.  Amazing given the range of hazards covered.  Apparently, only when crew performance is degraded (linked to a bunch of technical issues such as control signal, GNSS problems or flying in high winds/rain), do the mitigations around night flying creep out of the woodwork.
These mitigations sit in M35 and look…they are plastered against all the consequences associated with this specific (though poorly defined) hazard.
Are the mitigations for night flying (daytime survey, navigation lights, illumination of the operational area) not equally or more valid against, for instance loss of control in flight, or loss of airborne or ground separation?  Clearly not.  Take my word for it.  I've done a search and M35 only appears against this one hazard.
I think in this edition of Just a Minute, the regulator may have given us a few chuckles.  Except this is about safety, right?
Not just that, but we constantly read of operators whose documentation is being turned down by the same organisation it is "not good enough".
Every time an OA renewal is placed on hold it is because the regulator considers it "not good enough".
But as I've shown here once again, the very risk assessment the applicant's manual is based on is itself, "not good enough".
Something to CHIRP about
The First edition of CAP 722H had the feeling of having been rushed out to meet a date.   The overly long delay in getting it revised has certainly ensured that it isn't being taken as seriously as it should be.   This was recently confirmed in the introduction of the August 2023 CHIRP report:
"I for one have had conversations with Drone pilots, who have made it clear to me that the regulations are becoming so complicated that they have an increasing tendency to just ignore them, not both with either Flyer ID or OA renewals…"  Rupert Dent CHIRP Drone/UAS Programme Manager
The Second edition was an opportunity to concentrate and get the original version corrected.  Instead, there appears to have been a desire to make fundamental changes.
These make the document clearer in many ways (e.g. the actual OA template format is useful).  However, perhaps the focus on the fundamentals, and the wholesale format change to the Risk Assessment, led to reduced focus on the actual content.
Whatever the reasons, the document still has simple errors.  Because of those errors, it is difficult to trust the content in full.
Again, as ever, I would be delighted to enter into a conversation with the CAA about some of these issues.  We're all trying to get to the same place after all.  A safe, proportionate set of regulations and guidance for operators.