This blog will be out of date for any renewal beyond 31st December 2021
See Eyeup's "Update your Operations Manual 2022"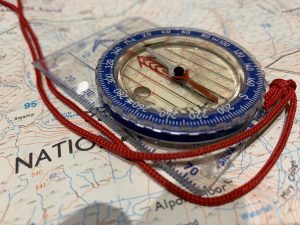 The end of 2020 brought more than another lockdown.  It brought the biggest raft of legislative changes we've ever seen in the industry.  These will reverberate for years to come…but right now you don't care.  You just want to update your Ops Manual.
You can do this yourself.
Here are the things to look for if changing your manual from the end of December 2020.  Be aware that this document isn't necessarily kept up-to-date and it is your responsibility to get your manual updated correctly.  Failure to do so may indicate a lack of understanding of your own manual and leave you vulnerable in the event of a CAA audit.  Don't say you haven't been warned.  Sub-contracting this element of your business and not understanding your manual is your responsibility and yours only.
If you are in any doubt as to what should be in your manual, check out CAP722A which provides the CAA template.
Step 1   Remove inaccuracies
Your OM may have slipped through last year with reference to CAP722 Appendix B.  This is an old reference that describes the template against which your manual was produced.  Now, this may be a true statement but the document it is based on is obsolete.  Best advice is to remove the statement entirely.
As of mid January 2021, the ECCAIRS reporting portal has also changed its location and the CAA will be looking to ensure you have kept up with this.
The ECCAIRS2 overview can now be found at https://aviationreporting.eu.  Not a huge change from the previous site name but enough!  The actual form is found at https://e2.aviationreporting.eu/reporting  Change the link in your manual and show that you know it is the ECCAIRS2 portal you are pointing to.
Step 2   Amendment Record
Whatever you change, make a note of it in your amendment record.  This will be near the beginning of your manual.  The date of amendments and amendment number should match those on the front cover.
Top tip: Remove issue numbers and dates from headers and footers of your documents.  They just leave you with more places to update every time.  Golden rule with key information is to have it in the correct place only…and only once to save you having to catch it at multiple locations
Step 3   Update the Document Reference Table
Fun fact.  CAP722A does not require a document reference table.  However, the CAA likes to see it to confirm very quickly that you understand the latest versions of the legislation you are working to.
I won't give the document dates and issue numbers here because they are subject to constant change, especially at the moment.
But what you do here is input the current document name (e.g. CAA CAP393) into a browser search and click on the CAA link that comes up.  Here's an example: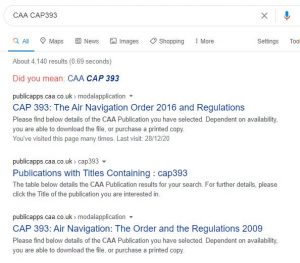 Click on the one you like the look of and you will be able to see the version and date.  You need to be careful as these documents are jumping around at the moment.  Read the notes carefully and understand what they are taking you to.  Is it the document you expected to see?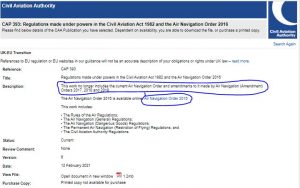 Once you find the link you need then it will tell you the  version and date.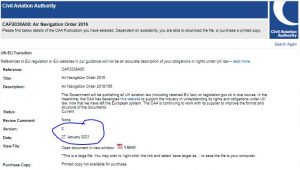 Be extra careful with CAP393 AS IT HAS NOW CHANGED TO CAP2038A00…which hardly rolls off the tongue!
It's a good idea to copy the document web address from your browser and create a link within your document.  This will help you access the source document when you need to.
So just check that the documents haven't been updated since your last review.  To be honest, they shouldn't because you are subscribed to SkyWise and keep these things updated throughout the year, don't you?
Note:  This blog will not tell you which documents to reference in your table, though below it does provide some suggestions for additions to your table in Step 5.  You may need to reference documents that are not covered by a standard RAE list because of the work you do.
If they have been updated, then input the version number and date in the relevant columns.
Step 4 What if you fly FPV?
You may have reference to FPV flying (or the conditions under which the RP can stare for a whole flight at his/her device).  If you do, you will be referencing ORS4 1294 or ORS4 1297.
1294 is now covered within the UAS regulations (within CAP2013) and 1297 is covered by general exemption ORS4 1449.  Essentially, maintain the description of your mitigations but you can lose the references to the ORS4 document.
Step 5   Add to your Reference Table
CAP393 Note that the Air Navigations Order (as drone users understand it) is no longer held under CAP393.  If you try and find CAP393 you will discover a much reduced document.
Instead, the Air Navigation Order now exists under the oddly-named CAP2038A00: Air Navigation Order 2016 (caa.co.uk).  It is at version 4 already, originally dated 27th January 2021 but was then lost for a short time by the CAA who replaced it with the same version but with a different date!  It also seemed to skip version 3!  Go figure.  The only advice I can give is to carry out your own due diligence at the point you update and see what the latest version and date is at that point.  The link above works at the time of writing.
CAP1496
Now updated to version 3 dated 22nd January 2021, the aviation reporting portal is no longer the ECCAIRS system.  No, it's now the ECCAIRS 2 system.  CAP1496 will guide you there and provides some nice, detailed instructions on the use of the portal.
CAP2013
This was launched at issue 1 on 17/12/2020.  It is designed to outline the proposed changes to the Air Navigation Order as it reflects the EASA-based changes. Referencing the ANO (CAP393) without referencing this will get your OM rejected.  Note: By the time you read this, the ANO itself may have been amended.  If it has then don't bother referring to CAP2013..but check the date and issue of your CAP393 reference.
CAP1789A
UAS Implementing Regulation (EU) 2019/ 947 Consolidated Text
You may not be familiar with this one but you probably need to understand where it fits in.  It contains all the rules, clearance distances etc. that are contained within the new rule set.  These have been effectively described in CAP722.  But CAP722 is a guidance document.  This one is the law (or at least the parts that will be referenced in the revised ANO will be the law).
CAP722D
Launched on 16/10/2020, this fascinating document is a glossary of acronyms and definitions that the CAA would like you to use in your manuals.  Please don't disappoint them.  Reference this document and move on to the next step.
Step 6  Abbreviations and Definitions
You know how the CAA is for TLAs (Three Letter Acronyms)?  Well, as mentioned above CAP722D is full of 'em.  There is some inconsistency in approach depending on who assesses your OM, but some have been sent back because they have abbreviations and definitions at the beginning of the document that don't actually get used anywhere else.  This is pretty much a waste of ink and paper.  It is best to remove any that you don't use – just do a CTRL "F" and see if you get more than one result.
Then go through your existing abbreviations and check that they match the preferred CAA version.  An example is that SUA – Small Unmanned Aircraft, which used to be defined in the ANO no less, is no longer de rigeur.  Instead you should be using UA – Unmanned Aircraft (if you are referring to the drone itself) or UAS – Unmanned Aircraft System (if you are referring to the aircraft system plus groundstation.
Sorry, did I say Groundstation?  How foolish.  A GCS – Ground Control Station is now to be referenced as a CU – Command Unit.  And you no longer require permission for commercial operations, so you may want to change PfCO to OA (for Operational Authorisation).
People, Vehicles Vessels and Structures is another commonly used phrase.  Now though, there is an emphasis on Uninvolved Persons.
I'm not going to list them here, but you need to cross reference your current list and change out (throughout your document) and that need changing.  It's a simple but painstaking process so go steadily and logically.
Step 7    Safety Statements
You will have some general safety statements near the start of your manual.  Have you ever read them?  Read them again.  You will want to reflect the change in emphasis from the protection of People, Vehicles Vessels and Structures to the protection of uninvolved persons while bearing in mind your responsibility towards vehicles, vessels and structures while flying, even if they are unoccupied.
See CAP 722 version 8 sections 2.1.3 and 2.1.3.1 for help on this.
Step 8   Check out ORS4 1449
If you search for this exemption you may be unlucky.  The original December version was corrected in February but for some strange reason remains at version 01?!  Use this link to get to the February version.
You shouldn't be referencing this particular document in your reference table but you do need to reflect its contents in your manual.  Read through and understand this document carefully as it contains some easements that previously you would have required an OSC to work to.
Run through the exemption and cross check it against the appropriate sections in your manual.  Depending on how your operations are described.  If relevant you may be wanting to change the sections around clearances for take-off and landing to ensure your planning focuses on uninvolved persons while ensuring you still protect the safety of vehicles, vessels, structures (and their occupants).
Step 9    Check out CAP2013 (or the revised CAP393)
This document contains the changes to CAP393.  However, please see Step 5 as CAP393 is no longer CAP393!  There have always been two approaches to the ANO in Ops Manuals.  One is to copy the relevant articles in full into your document.  One is to just reference the relevant articles in the appropriate parts of your manual.  Whichever you do, you need to recognise that the structure around the drone rules have changed.
Article 94 is stripped down to just sections 94A, 94B and since August, 94BA.  These articles just cover the requirements for flight restriction zones around protected aerodromes and space sites and should be referenced (or copied and pasted) into the relevant section to replace what you currently have.  Delete references to any other existing article 94 sections (C to G) and 95 you may have.
Note that if your manual references the ability to fly above 400ft within an FRZ with the permission of the ATCU then this needs to be removed.  CAP2031 Article 94 notes (page 3) clarifies this.
References to Article 95 should be removed as its requirements are superseded by the new UAS regulations.
It is worth referencing articles 240 and 241 and perhaps even including them in full to show you are aware of their importance.
Now, for the balance, I admit I don't know what the CAA is seeking and they don't appear to be very forthcoming with advice even after two weeks and months of planning.  Articles 265A to 265F all relate to the offences and penalties.  My feeling is that it should be sufficient just to reference these in an appendix.  Currently there is no "Offences and Penalties" section contained in the templates document (CAP722A).  Here is what I have done but we won't know until the CAA have assessed a range of Ops Manuals what they are prepared to accept.
| | |
| --- | --- |
| 265A | Offences: Contravention of Commission Implementing Regulation (EU) 2019/947 on the rules and procedures for the operation of unmanned aircraft – UAS operator |
| 265B | Offences: Contravention of Commission Implementing Regulation (EU) 2019/947 on the rules and procedures for the operation of unmanned aircraft – remote pilot |
| 265D | Minimum age requirements |
| 265F | Penalties |
| 257 | CAA's power to prevent aircraft flying |
Step 10     Compliance Statement
The CAA wants to see a compliance statement.  This will want to be as close as possible to the top of the document.  Mine has gone in as part of the statement by the Accountable Manager.  The statement it wants includes the mention of PDRA01 in respect of the OA they issue.  It's a complex point but until you renew you don't have a PDRA01 OA.  But I would err on the side of including the full statement.  After all, your Standard Permission, coupled with the ORS4 1449 general exemption effectively equals a PDRA01.
Here is the statement:
"All Operations will be carried out in accordance with the issued Operational Authorisation PDRA01 and abide by the requirements of AN02016 – 2020 Amendment and UAS Implementing Regulation 2019/947 (as retained in UK Law)."
Step 11   Finally
Check you've done everything above.  This is aviation so use the checklist below!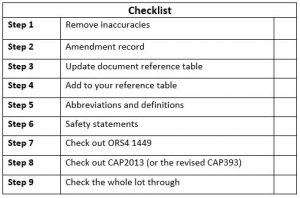 I offer NO GUARANTEE that any manual updated to these instructions will be accepted by the CAA.  It's your manual and you need to understand not only your procedures but the law surrounding them.  Do that and you're halfway there!
However, if you have found this useful, I would be delighted to receive your comments.  Is it easy to use? A pain in the arse? Impossible to understand?  Email me at info@eyeup.camera and let me know…I really don't bite.
If you need some tricky work doing that even an A2CofC can't help you with and you're in the South of the UK then hit me up.  I can fly legally at heights you won't get away with even with some of the relaxations.  And I can operate proper sized drones in built up areas at very reduced clearances too.  Same email address applies.  I can even help you towards similar exemptions!