Eyeup's White Label service
A valuable white label service that allows you to offer your client a service above and beyond your current permissions.
Eyeup Aerial Solutions maintains a unique position amongst professional drone operators.  A thriving training and consultancy offering and full-time job mean that Eyeup's owner, Graham Degg, can't commit to flying on a daily basis.  However, when an interesting and challenging project arises he is more than happy to  don the hi-viz and get a drone into the air.  A great set of flight exemptions also means that Eyeup can operate closer, higher and further than the vast majority of other operators.  We can also do this with decent quality sensors such as X4s, X5s, X7, Z30 and thermal packages.  Although the 2021 regulations have made it easier for operators to fly within tightly congested areas, this is currently only possible with small sensors.  Small sensors mean a lack of low-light performance and operating flexibility.
Eyeup's consultancy work has helped create a network of experienced operators. many of whom hold exemptions in their own right.  So when I can't be available or I'm too far away I can on the job details (with your permission) to another capable operator.
This network also includes a set of professionals who can add value with data processing, survey reports, even traffic flow analysis!
Finally, the service includes the ability to plan jobs at the highest levels of safety, bringing to bear the experience required to produce detailed Operating Safety Cases combined with real life experience of operating in high-risk profile locations.
A different point of view
Eyeup's range of platforms including Mini 3 Pro, Phantom, Mavic 2 Pro, Inspire 2 and Matrice 210 means that we can capture angles that are  difficult or impossible for others in both stills and video.  Top-mounted cameras mean that we can capture overhanging features as well as achieving the usual "top-down" views.  This can be very useful for façade condition assessments where complex stonework details can be captured for comparison purposes over the life of a property.  We are even armed with a Bumpcage which, combined with the Mavic 2 Pro, provides mitigations against a range of risks, many of which most operators wouldn't necessarily consider, but which can add value to your bids.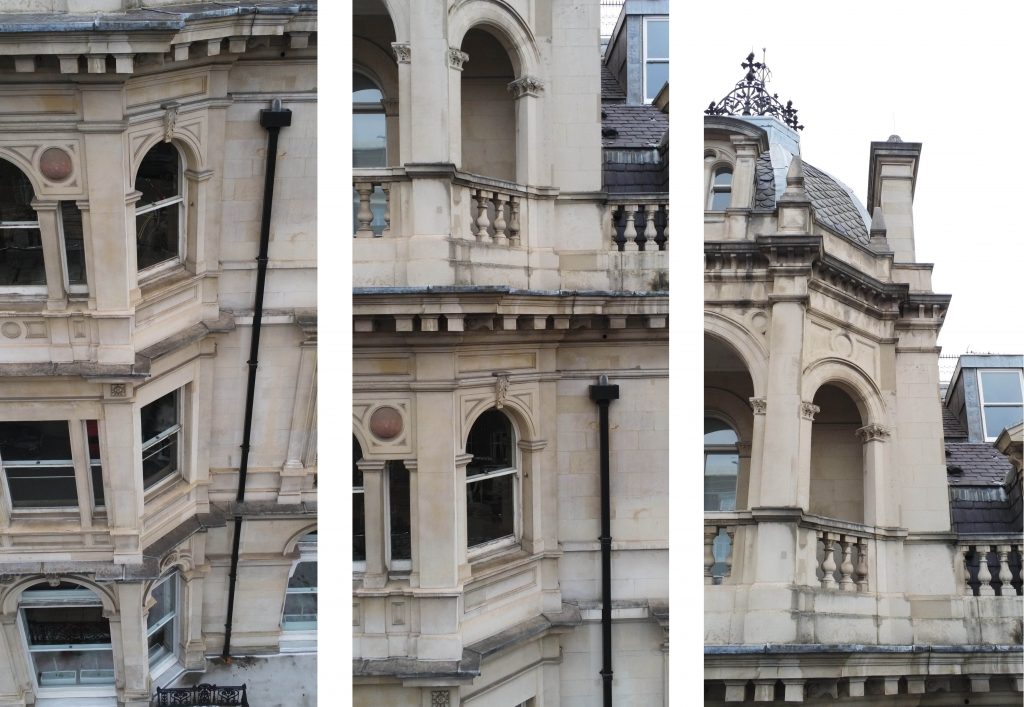 COVID- aware… COVID-safe
In 2021 it is important to ensure that everybody is protected.  Eyeup has produced, and operates against, a detailed COVID-19 risk assessment.  Graham manages the COVID-19 response for a £7m manufacturing company so is experienced in risk assessing and mitigating to keep our clients and partners safe.  A copy of our risk assessment is available on request.  As the image below shows, operating a drone, even using dual operation, can be carried out with minimum fuss and additional equipment.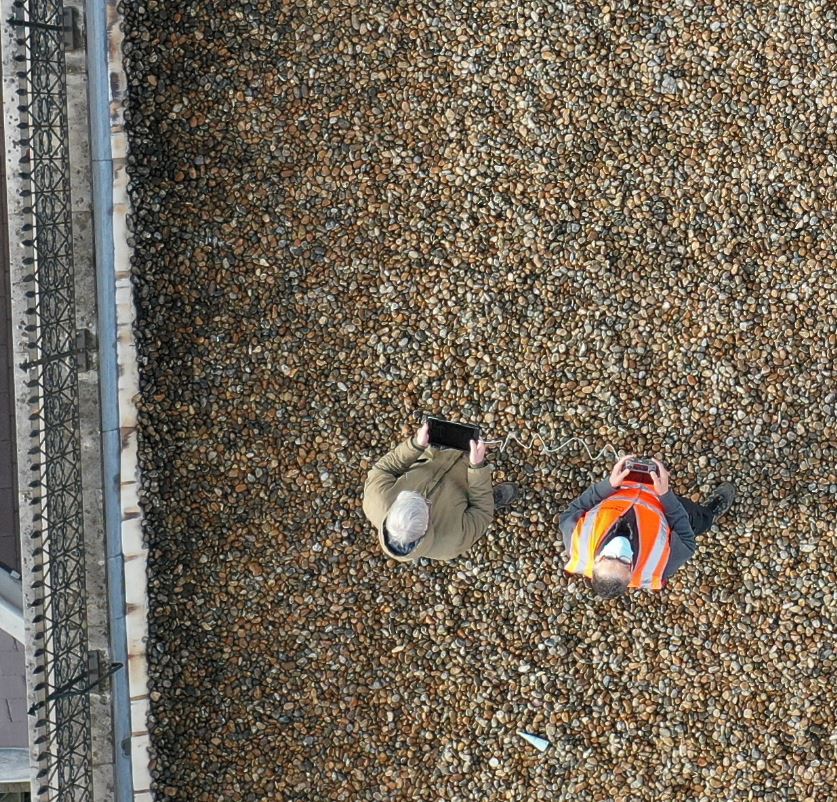 Your clients remain your clients
With Eyeup, there is no risk of client "poaching".  Graham is delighted to sign up to any non-disclosure agreement although generally, the operators we work with rarely bother.  If the concept of poaching is of any concern whatsoever then please contact us and you can have a word with some of our existing clients, none of whom has ever lost a client to Eyeup.  We often work with our consultancy clients who are either in the process of writing an OSC or who have decided to sub-contract this sort of work.  An OSC isn't for everybody and we appreciate working with operators who appreciate the challenges of higher-risk environments.
So how can we help you?
Well, we've helped other operators with a range of tasks.  Many are based around survey, inspection and condition assessment reporting.  This is because these tasks usually necessitate working in tightly congested areas with larger, more capable, sensors.  But Graham has found himself flying 200ft above a 500ft building in London for a BBC series.  This wouldn't be allowed by a standard operator even under the more relaxed 2021 regulations.  This was Eyeup's first TV work and combined flying in a restricted area in the capital, with >400ft operations and night flying.  So if we can delight a BBC director under those conditions I'm sure we can help you.
Get in touch with Graham via our Contacts page
You'll find Eyeup Aerial Solutions Ltd under Operator number 2943 on the CAA list of permission-holders.