Count those satellites
Most drones are equipped with GNSS or Global Navigation Satellite Systems.  The system takes data from one or more of the world's satellite systems and uses this to calculate its position in three dimensional space.
Older DJI drones are equipped to operate using the United States' GPS as well as the Russian GLONASS systems. Later models such as the Mini 2 go one better and also make use of the European Galileo constellation.  The RTK models even add the Chinese BeiDou system.
It is therefore rare to have a poor satellite count before you take off.  The theoretical minimum number of satellites needed to fix your position on the surface of the Earth is 3.  Because a drone takes off and needs to know its height above the surface, this minimum increases to 4.  However, most models will want to see a minimum of 8 satellites locked before allowing the user to take off.  Why might this be?  Well, the signal may be weak from some satellites due to atmospheric conditions and the satellites position with respect to the drone.  The actual signal strength reaching the earth from the satellites is phenomenally low and can be easily attenuated by foliage or even the impact of having to travel through a thicker atmosphere because they are lower in the sky.
The Grand Canyon
There is also a phenomenon called GPS canyoning, where a satellite signal bounces from a structure before reaching the receiver.  Because the system uses ultra-precise timings involving atomic clocks, the additional distance travelled before the signal reaches the drone causing it to try to correct its position based on incorrect data.
Satellite constellations are made up of a large number of constantly moving individual units so there is usually plenty of overlap.  However, although a "shortage" of satellites is rare these days it can occur in built up or heavily wooded areas.
How do I know where they are?
The information on the standard DJI display provides you with a count but doesn't tell you whether you have a good "spread" around the sky.  Since the drone's system uses triangulation to calculate its position, it ideally requires a wide distribution of signals to provide your UA with the best positioning data.  Apps such as UAV Forecast attempt to help by giving you a count and a forecast of satellite information buy again, this is only in the form of a count.  What you really want to know is where the satellites are in the sky to see if you have a good spread.  You also need an idea of whether you'll be able to see those satellites from your take-off point, particularly in a built up area or somewhere surrounded by mountains or woodland.
Take a view on it
For this reason It's worth downloading
GNSS View
.  It's available for
IOS
or
Android
devices and provides a radar or augmented reality view of satellites.  It also allows you to set a horizon mask to represent surrounding structures or landscapes as a guide to which will be blocked.  You can also choose which satellite constellations you are viewing too, so you would set this to the constellations listed in the user manual for your drone.
The difference between count and spread. In this "Rada" view from the GNSS View app, the count for this portion of the sky would be 4. But in reality, 3 of the satellites are close together.  In terms of positioning the real data being received is nearer to an equivalent of 3 or even only 2 satellites.
Looking at the "radar" view, if you were taking off in this scenario with the drone close to a building taking up the Western hemisphere of the sky then you would have access to very few satellites indeed (this is looking at GPS and GLONASS systems).  Using a drone with access to additional constellations may help, but so would simply moving to a nearby location (perhaps the other side of the building), with a view of the better populated Western hemisphere.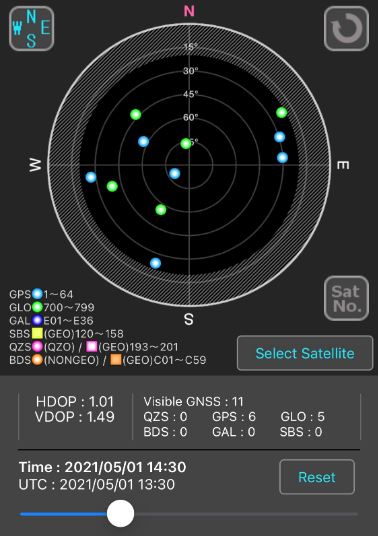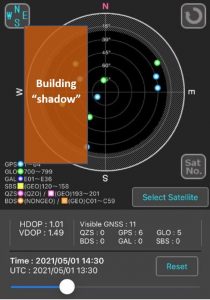 This augmented reality" image shows the whole sky. In reality there is a decent count but a lot of those nearer the horizon (edge of the circle) may be masked if operating near high structures or even just very close to a building.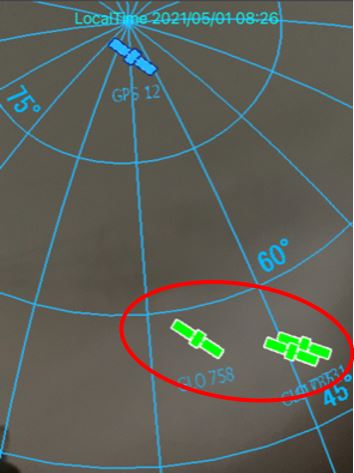 Knowledge is power
If you only know how many satellites there are an not where they are you can still fly safely.  But it is good to have an understanding of their position in the sky, particularly before taking off in a heavily congested area so you can be ready to control a wayward drone.