"Can I fly my drone in a nuclear restricted area?"
The blog below is based on an article published in Drone User Magazine on 1st July 2021.  The day before it was published, but too late to amend the article, Altitude Angel's Stephen Farmer contacted me to state that:
…"the wording in Drone Assist is being updated this evening to bring it in-line with our other apps, changes we said we would make when it came back under our control last month.  If there is anyway this could be corrected it would be much appreciated."
Apologies to Stephen.  However, the great news is that the NATS branded flight planning software should now be aligned with the safer and more legally sensible (in my opinion) wording used in the Guardian Angel and Coverdrone's Flysafe apps.
Having made the clarification above I reproduce the original magazine article below.
Avoid NATS Drone Assist!
Stephen Timewell, the esteemed editor of this magazine, is great.  He knows how busy I am and doesn't necessarily expect me to produce an article every month.   Writing one of these pieces can be tricky, especially as the concepts around regulations and safety can be fairly dry to work with.
However, sometimes an issue comes up that not only demands attention but also has the advantage that the article almost writes itself.  In this case it also covers a subject that can impact a huge number of drone flyers and it's also one that could keep you out of some very hot water.
Let's get this out there right now.
Stop using the Drone Assist App!
There we go.  I may have saved you getting arrested, having your equipment seized (ooh er!) and even perhaps spending a night in the cells as your motives for flying where you were flying are carefully checked.
Degg's gone mad!!!
Possibly…but hear me out.
I know that NATS Drone Assist is the default app used by drone pilots to ensure they are not stepping over the line into illegal flying.  I suspect that if you've done an A2CofC course you'll have had it recommended as the go-to resource to keep you out of trouble.  I can't blame the RAE's for recommending it (though I haven't for some time though for other excellent reasons) because NATS is the UK National Air Traffic Service so surely they wouldn't lead us astray…would they?
Take a look at this screenshot from NATS Drone Assist for the Heysham nuclear plant in Cumbria.  I chose this plant because an unsuspecting hobbyist had posted a flight within this area (restricted area R444).  He argued, quite convincingly, that the warning against flight in the app was equivocal.  Lets read it in detail…
"Restricted Area.  The flight of aircraft within this area is restricted. We recommend you do not operate your drone here."
So far, so good.  Don't fly.  However, the next statement then contradicts it with:
"if you do, please exercise extreme caution and abode by the CAA Dronecode, ensuring your drone remains within your line of sight at all times."
So, a mixed message, which many operators keen to fly will take as being far from a definite warning against flight on the basis of its illegality.
The argument that the statement is not a specific warning against flying is reinforced if you check out the NATS position on the London City Controlled Traffic Region (CTR). This is not a restricted zone and is not the flight restriction zone so flight in this area is allowed.  The text associated with the area is slightly different but has the same approach as the R444 nuclear restricted zone above:
"REGULATED AIRSPACE
This airspace is likely to contain high volumes of aircraft.  We recommend you do not operate your drone here.  If you do, please exercise extreme caution and abide by the CAA Dronecode, ensuring your drone remains within your line of sight at all times."
I thought this was very strange, so in mid-June, when I because aware of this issue, I asked NATS to comment on the wording.  To date I have received no reply.
Who's behind all this?
You will notice that all the apps (Drone Assist, Altitude Angel, Coverdrone Flysafe) all have the same look and feel.  What is registered on one app will also appear on the others.  This is because they are all powered by the same underlying software which is made by Altitude Angel.  I thought an approach to them might help and, good as gold, they replied immediately.  Not only that but their reply explained exactly why the "NATS" version of the app provides different information on some areas.  Phil Binks, Altitude Angel, Head of ATM, said:
"With regards to the flight within RG444 Heysham, both the Drone Assist App and CoverDrone show the area as restricted airspace, therefore permission should have been sought and granted before the flight took place.  The wording displayed to users of Drone Assist differs slightly from that available in all other Altitude Angel products and services, such as the CoverDrone app.
This is because Drone Assist was developed in conjunction with NATS, who provided the wording displayed for each of the airspace classifications within Drone Assist in 2016. By design, all Altitude Angel products and services give consistent guidance and feedback.
However, to provide NATS the flexibility to change the wording given in Drone Assist, we created a mechanism which effectively 'partitioned' it from our main platform. As per our announcement of 14 May, Drone Assist has been brought fully under the care and management of Altitude Angel and will shortly be introducing a number of updates which will allow us to provide a consistent message across our products and services."
Clearly, in 2016, NATS decided that Altitude Angel's wording on the airspace classifications could be improved upon and they provided revised wording.  You will find that the other users of Altutude Angel's "engine" were happy to stick with  the standard wording which, to me at least, leaves far less room for argument.  Here is the screenshot for R444 from Coverdone Flysafe.
The wording here is:
"RESTRICTED AREA
The flight of aircraft within this area is restricted in accordance with certain specified conditions.  Notes attached to this area provide additional information.  Danger, Prohibited and Restricted Areas are defined according to ICAO International Standards.  Regulation governing the flight of drones vary from country to country, therefore these areas are included for your information.  It is your responsibility to check the applicability of any local, state and/or national laws and regulations which may permit or otherwise restrict the operation of your drone in this area.  Unless regulations in your region explicitly permit the operation of your drone in this area, we recommend you do not operate your drone here."
Local, state and/or national laws and regulations.
Hopefully, this wording would have one of two effects on a casual drone flyer.  The first is to say "OK, they don't want me to fly here so I'll avoid doing so".  The second, more considered approach would be, "OK, I'd better check the local, state and/or national laws and regulations.  Well, you don't have to because I've already done it for you.
The relevant law is The Air Navigation (Restriction of Flying) (Nuclear Installations) Regulations 2016 which can be found here.
It essentially provides a list of sites together with centre points and a restricted radius within which all aircraft (apart from those with specific permissions), are prohibited…including unmanned aircraft.  Column 4 provides the height below nothing must fly.  By the way, a FlyerID, A2CofC, PfCO or GVC/OA does NOT constitute permission!
Let's see if we can find Heysham…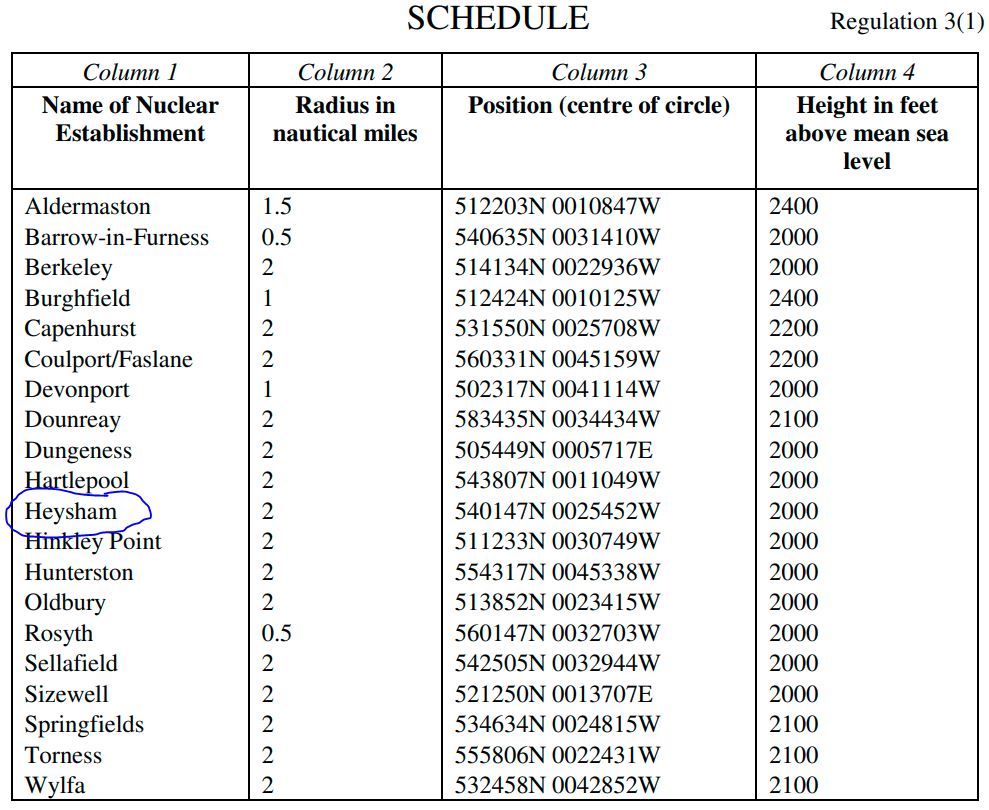 Yes, there it is.
It appears that the Coverdrone Flysafe app will provide good advice that will lead you to avoid flying illegally near Heysham.
Is this being resolved?
Returning to the Altitude Angel response above we can see that "As per our announcement of 14 May, Drone Assist has been brought fully under the care and management of Altitude Angel and will shortly be introducing a number of updates which will allow us to provide a consistent message across our products and services."
We don't know when Altitude Angel will be able to change the existing NATS messaging but until they get around to it, I can't recommend anybody use the NATS branded app, hence my opening statement.
What are NATS saying now?
Having received no response to the query I put to NATS a few weeks ago I thought I'd try a different route.  Today I put in a flight request asking if I would be OK to fly at Heysham by maintaining visual line of site and following the Dronecode.  I got a short response:
"Hello,
Thanks for your enquiry.
Heysham has a Restricted Area placed around it; R444.
Please contact CAA Airspace Regulations Operations for information/confirmation; Tel: 01293-983880.
We've also attached a chart screenshot and the AIP entry for information."

The image is a screenshot and not very clear but states that the area is in force from surface to 2000ft but also that flights are only permitted for helicopters using the Heysham facility landing area.  Oh, and microlights access can be given to Middleton Sands.  It is clear from that drone flights are not included within the permitted flights.  Quite a different message from the NATS messaging on their branded app.
When I questioned them on this confusion, they pointed out that Altitude Angel had taken over the sole running of Drone Assist from 14th May 2021.
Clueless, careless of criminal?
In 2019 Andy Sage, the head of Unmanned Traffic Management at NATS came under fire from the drone community for using the phrase  "Clueless, Careless or Criminal" in relation to the drone flying community.  It is likely that around this time NATS was working out what they would write into the various areas of airspace within the Altitude Angel app.  It is currently the NATS wording which is still there and is leading pilots astray.
If a hobby flier gets picked up by the police for flying their drone close to one of these plants, having followed the advice on Drone Assist, I wonder which category they would place their advisors (essentially NATS) in?  Although NATS would come in for some criticism if their app was able to be used as a partial defence, in reality, a drone pilot found flying illegally in a restricted area would, I suspect, be found to be responsible.  Are NATS clueless?  Clearly not, as their latest message to me reveals.  The team in charge of directly advising remote pilots is on the ball (and this is what I find whenever I deal with them).
No, I suspect that the poor descriptors provided to Altitude Angel to use in their app are merely the result of carelessness.  Still, not a great finding against those charged with managing our airspace.
What is the solution?
The CAA provide information via their web-based www.dronesafe.uk/restrictions page.  This is great for double checking airspace, though it does have its problems (stake a look at the area around Stonehenge and judge whether you believe it is legal to fly anywhere near the stones…then look again).
For mobile and desktop planning purposes alike the Altitude Angel engine is great.  It contains good information and can really help you plan your flights.  Unfortunately, it has been marred in the NATS branded version.  However, you can use their fantastic web-based product which can be found at https://www.altitudeangel.com/operators-pilots/.
My favourite version of their mobile app is Coverdrone Flysafe.  Log a flight on this using your flight device and you will get airspace warnings from manned aircraft using the ADS-B system.  Not only that but they send you an email with a printout of the risks to be taken into account in your flight area…including nuclear power stations!